News:      27 July 2021
For guidance and support relating to COVID-19, please view the Council's Coronavirus Information Hub.
Redbridge Children and Young People's Newsletter
The 4th Edition of the Redbridge Children and Young People's Newletter is now available to download:
REWT YouTube Channel
The Redbridge Educational Wellbeing Team (REWT), part of the Borough's Educational Psychology Service, have launched a YouTube channel.  The link is below:
Do take a look at the first three videos that are available.  The Team plan to upload helpful videos for the Redbridge community, including parents, school staff and children and young people, on a regular basis.  The YouTube channel aligns with the vision and mission of the Service which is "Nurturing mental health and resilience in Redbridge school communities".  The latest REWT newsletter is available below:
Keeping Children Safe in Education – Government Guidance 2021
The Government have published updated guidance for schools and colleges which comes into effect from 1 September 2021:
The NSPCC have produced a useful briefing on the guidance which outlines the main changes:
Sexual Violence and Sexual Harassment Between Children – Government Guidance for schools and colleges
The NSPCC have produced a useful brifing on the updates to the guidance:
Foster for Redbridge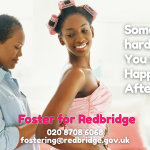 Some see hard work.  You see a Happy Ever After.  Foster for Redbridge.
You could be the one to teach a teenager independence and help to guide and coach them into adulthood. Over 200 children in Redbridge are unable to stay at home for a variety of different reasons and need foster care.  Be the change that they need and help to make a difference to their life.If you have a place in your heart and home to foster a young person, please call us on 020 8708 6068 or email fostering@redbridge.gov.uk or join us on our next virtual information session on 3 August 2021 6pm to 7pm.  Visit https://www.eventbrite.co.uk/e/foster-for-redbridge-virtual-information-session-030821-6-7pm-tickets-135311567541 to book a place.
Redbridge Fostering Panel
A great opportunity has arisen for a Social Worker/Education Professional/Person with care experience or others who would like to increase their skills, knowledge and experience. The Redbridge Fostering Panel is looking to increase its pool of Panel members. The Panel usually sits twice a month and panel members rotate their attendance. This is a valuable development opportunity for staff to extend their skills and knowledge of fostering and permanency. If you commit to becoming a Panel Member, to ensure quoracy it is necessary that you attend Panel on a regular basis.  If you are interested in becoming a Panel Member or would like to find out more, you are welcome to contact me to discuss this opportunity, or to contact Angela Lockhart, in the Fostering Service, on 020 8708 7490 to arrange to observe a Panel.
NSPCC – Report Remove Tool
The NSPCC's Childline service has launched the Report Remove tool with the Internet Watch Foundation (IWF). The tool will enable young people under the age of 18 to report a nude image or video of themselves that's appeared online. The IWF will then review these reports and work to remove any content which breaks the law.
Read the news story: Childline's new tool helps young people remove nude images shared online 
See the tool: Remove a nude image shared online
Barnardo's Young Carers Service
Are you aged 5-18 and help look after someone at home? You're not alone!  A young carer is a person under 18 who regularly provides emotional and/or practical support and assistance for a family member who is disabled, physically or mentally unwell or who misuses substances.  Barnardo's young carers meet every Friday (online and/or in real life) for support, solidarity and fun, free activities! We do cooking, shadow boxing, mindfulness, bingo, movie nights, trips, quizzes, arts and crafts, and much more!  Contact WellbeingHub@barnardos.org.uk for more information or to join us.