News:      5 July 2022
'Meet the Chair' Events
The Redbridge Safeguarding Children's Partnership has a new Independent Chair.  Why not come and meet her at one of a series of informal one hour 'virtual' events running across the summer?  There are still two dates left – today (5 July) and 7 September. Find out more by viewing the flyer below:
Foster a Redbridge Child
Some see hard work.  You see a Happy Ever After.  Foster for Redbridge.
You could be the one to teach a teenager independence and help to guide and coach them into adulthood. Over 200 children in Redbridge are unable to stay at home for a variety of different reasons and need foster care.  Be the change that they need and help to make a difference to their life. If you have a place in your heart and home to foster a young person, please call us on 020 8708 6068 or email fostering@redbridge.gov.uk or join us on our next virtual information session on 15 July 2022 10am to 11am.  Visit https://www.eventbrite.co.uk/e/foster-for-redbridge-coffee-morning-150722-10-11am-tickets-240067848397 to book a place.
Spread the word about #DogSafety
Leading animal welfare organisations have teamed up to produce a shareable infographic to encourage safe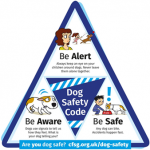 interactions with dogs.  Recently we've seen several tragic dog attack fatalities, so it's paramount that families are equipped with the knowledge and skills they need to enjoy spending time with their dogs safely.  The Canine and Feline Sector Group Dog Safety Code highlights three crucial messages that all dog owners and families need to know:
Be alert – Always keep an eye on your dog around kids. Never leave them alone together
Be aware – Dogs use signals to tell us how they feel – What is your dog telling you?
Be safe – Any dog can bite. Accidents happen fast.
We're encouraging our partners to display and share the infographic as widely as possible to get the #DogSafety message out there.  Available in digital and print versions – download from the Canine and Feline Sector Group website https://www.cfsg.org.uk/dog-safety/.More information can be found at: https://www.cfsg.org.uk/dog-safety/
CSPR Panel Report – Child Protection in England
The national Child Safeguarding Practice Review (CSPR) Panel Report on the deaths of Star Hobson and Arthur  Labinjo-Hughes has been published and can be downloaded via the link below.  The review sets out findings and recommendations for national government and local safeguarding partners to protect children at risk of serious harm.  It examines circumstances leading up to the death of young Arthur and baby Star and considers whether their murders reflect wider national issues in child protection.
Final Report of the Independent Review of Children's Social Care
The final report of the Independent Review of Children's Social Care has been published and can be accessed via the Review website, link below:
As well as the full report, there is an Executive Summary and supporting evidence in the form of annexes.
The Department for Education have published a press release in response to the report.