News:      25 February 2021
For guidance and support relating to COVID-19, please view the Council's Coronavirus Information Hub.
New!  Public Health England Psychological First Aid Training
Public Health England (PHE) have launched a free online Psychological First Aid (PFA) training course via FutureLearn.  It is aimed at those supporting children and young people who have been affected by COVID-19 and may be feeling stressed, lonely or anxious.  The course provides guidance on how to provide practical and emotional support, particularly to those that have experienced emergency or crisis situations.  Offering children and young people support early can prevent longer term mental health issues.  The course is suitable for all frontline workers including teachers, health and social workers and volunteers.  It takes around three hours to complete, and is split into three sessions.  The course can be accessed here.
Telephoning the LBR MASH
Please be advised that there have been some changes to the telephone system receiving calls into the Redbridge MASH.  The phone number remains the same (020 8708 3885).  Upon calling you will receive the following message:
You have reached the Multi Agency Safeguarding Hub, commonly referred as MASH.  Please select from the following 4 options.
If you have concerns about a child and want to make a referral to the team or want to discuss an issue related to children social care, please press 1.
If the child, you are calling about has a social worker, please press 2.
If you are a professional wanting an update on a MASH case or advice, please press 3.
If you require any other service, please call our call centre on 02085545000.
Private Fostering
Do you know of a child who is being cared for, for a period of more than 28 days, by someone who is not a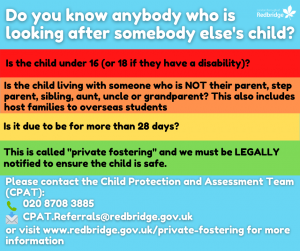 close relative?  If so, this could be Private Fostering.  Private Fostering describes an arrangement when someone who is not a close relative cares for another person's child under the age of 16 (18 if the child has a disability) for 28 days or more.  A close relative is considered to be an aunt, grandparent, step-parent or siblings.  Other family members such as cousins or great aunts are not classed as close relatives for the purposes of Private Fostering.  Families hosting overseas students being educated in the UK are included in the definition of Private Fostering.  Notifications for Private Fostering arrangements in Redbridge should be made to the Child Protection and Assessment Team (CPAT) via 020 8708 3885 or via e-mail at CPAT.Referrals@redbridge.gov.uk .  For more details, please view the Private Fostering information on the Council's website or on the dedicated page for parents and carers on this website.
Reach Out
This is a reminder of the Reach Out Service, launched by the Local Authority with partner agencies to provide support to residents experiencing domestic violence. More information is available on the Council's website.  The direct contact information for Reach Out is for residents. Professionals requiring updates on existing cases should contact the MASH via 020 8708 3885 or CPAT.Referrals@redbridge.gov.uk to ensure that the Reach Out phone lines are left free for victims.
Quick Guide to Prevent
A useful guide on Prevent is now available as a quick read publication.  It is short (one page), and covers the main areas of the Prevent programme, which aims to tackle the causes of radicalisation, safeguarding those at risk and enable those that have previously been involved to disengage.  Download it via the link below.
On-line Parenting Courses
InOurPlace Understanding Your Child on-line parenting courses, developed by the Solihull Approach, are now available free of charge to Redbridge residents.  There are three different courses available covering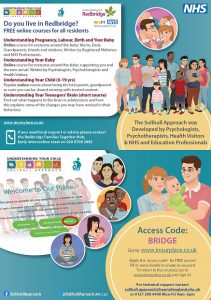 the age range from pregnancy into childhood, some of which are in alternative languages.   Each course consists of a number of modules.
These can be completed at your own pace.  The courses are suitable for parents, carers and grandparents and they aim to enhance family life, improving understanding of babies and children.
The material is based upon expert research and the courses have achieved the Government's CANparent Quality Mark.
Upon completion you can opt to receive a certificate.  To view the courses, you will first need to register an account using your e-mail address and then use the access code BRIDGE to obtain free use.  More information is available in the flyer (to the left) or view the website.
Safeguarding Briefing Note for Volunteers during Coronavirus
The RSCP, along with the Redbridge Safeguarding Adult Board, have produced a short briefing note on safeguarding for use with volunteers.  The information provides a general introduction to safeguarding and the role of volunteers in reporting concerns, plus the contact information for both Children and Adult Social Care in the LB Redbridge.  It does not replace individual agency safeguarding policies or procedures, nor face-to-face safeguarding training.
Information on changes in arrangements for CP Conferences and Looked After Reviews
Please find below two letters from the Borough's Safeguarding and Quality Assurance setting out new arrangements for conducting CP Conferences and Looked After Children Reviews going forward.  These letters have been sent out to all partner agencies.
There is also a letter specifically for parents and carers of children who are due to have an Initial Child Protection Conference (ICPC) or a review Conference.
Joining instructions for virtual meetings will be issued with the usual invitation to a Conference or Review, but can also be downloaded via the links below: