News:      29 November 2020
Event – SEND Practitioner Workshop
A SEND Practitioner Workshop is planned for 16 December from 10:00 – 12:30.  Book via Eventbrite:
https://working-with-parents-carers-16-12-20-redbridge.eventbrite.co.uk/
RSCP Autumn Newsletter 2020
Our latest newsletter is now available to download:
Lockdown 2.0: A survey of how young people are feeling
Your local NHS is calling on children and young people to help them improve the way health and care services are provided.  They have worked with a group of 15 young people from the local Youth Councils to design a survey asking others how they are feeling during the second national lockdown and what can be done to support them.  The survey is aimed at 11-18 year olds, or up to 25 year olds for those with special educational needs, living in Barking and Dagenham, Havering, Redbridge, Waltham Forest, Tower Hamlets, Newham and City and Hackney.  Click here to complete the survey. It should take around 5 minutes to complete and the results are anonymous.  The survey will close on 4 December 2020.
New!  RSCP Annual Scrutiny Report 2019 – 2020
The Partnership's Annual Scrutiny Report for 2019 – 2020, written by the Independent Chair and Scrutineer, John Goldup, is now available to read:
New!  Act Early
Counter Terrorism Policing have launched a new safeguarding website www.actearly.uk. The website aims to increase awareness with concerned family and friends of where to go for further information and support. The site also aims to raise awareness and understanding of the signs of radicalisation, increase understanding and confidence of the referral process, and develop trust and confidence in the safeguarding role of the police. Family and friends know when somethings not right. It can feel scary to think someone close could be heading down a path towards extremism. However, it is family and friends who are best placed to spot concerning behaviour at an early stage and can help the person they care about get the support they may need to move away from extremism.  In addition to the launch of the website, a new national Prevent advice helpline is also being set-up and operated by specially trained Prevent Officers whose focus will be on providing reassurance and practical advice, in confidence, to concerned friends and families. The helpline is now live on 0800 011 3764.
Prevent is safeguarding, its approach is similar to supporting individuals who may be susceptible to gangs, grooming, child sexual exploitation and other lines of criminality. Prevent provides support and builds resilience to counter that vulnerability by working with multi-agency partners in health, faith, community groups, charities, education and local authority, to help the individual move away from an extremist pathway.
RSCP Priorities 2020 – 2021
Are you interested in knowing what the Partnership will be focusing on this year? you can download from the link below a summary of the different priorities and key actions that we will be taking.
Out of School Settings
The Department for Education has issued further safety measures for Out of School Settings for the autumn term. The Guidance for providers of before or after school clubs, and other out-of-school settings has now been updated to extend its applicability to the autumn term. It has been updated to include specific content on what measures as providers you should put in place to minimise mixing between different groups of children when schools reopen, and to reduce the risk of infection and transmission of the virus for children, staff and parents who attend their settings. The Parent guidance has also been updated to reflect these points. Parents and carers should limit the number of settings their children attend as far as possible, and ideally to ensure their children attend the same setting consistently.
The Out of School Settings Team in Redbridge can be contacted via OOSS@redbridge.gov.uk
On-line Parenting Courses
InOurPlace Understanding Your Child on-line parenting courses, developed by the Solihull Approach, are now available free of charge to Redbridge residents.  There are three different courses available covering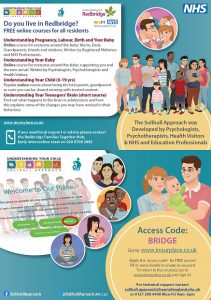 the age range from pregnancy into childhood, some of which are in alternative languages.   Each course consists of a number of modules.
These can be completed at your own pace.  The courses are suitable for parents, carers and grandparents and they aim to enhance family life, improving understanding of babies and children.
The material is based upon expert research and the courses have achieved the Government's CANparent Quality Mark.
Upon completion you can opt to receive a certificate.  To view the courses, you will first need to register an account using your e-mail address and then use the access code BRIDGE to obtain free use.  More information is available in the flyer (to the left) or view the website.
Mailing Lists – Data Protection Update
In the coming months, the RSCP will be writing to anyone already on our mailing lists asking if they would like to continue to subscribe for the next two years.  This mailing may be delayed during the response to the COVID-19 outbreak but if you've been on our mailing list since 2018, we will be in touch by September!  For more on our data protection policy, please click here, or if you're not on our mailing lists and would like to be, please complete our online contact form.
Information – COVID-19:
Public Health England (PHE) Review – Questions and Answers
The Borough's Public Health Service has helpfully put together some questions and answers based on the recently published Public Health England (PHE) Review of the disparities and outcomes of COVID-19 which identified major health inequalities.
SafeToNet – Support for Parents and Carers to keep children safe online during COVID
The COVID-19 pandemic has resulted in children and young people spending more time on-line through 'lockdown' and school closures.  This time is often spent without immediate supervision, which increases vulnerability to safeguarding risks.  SafeToNet Foundation is making available 1 million copies of the organisations app free.  The app helps parents and carers safeguarding their children from online rinks such as cyberbullying and sexting, whilst respecting the child's rights to privacy.  Read more via the link below:
Messages from the Redbridge Youth Council and Child Friendly Redbridge Ambassadors on COVID-19
Check out these short films made by young people on staying safe and protecting others during COVID-19.
https://www.youtube.com/watch?v=bOkrugkdvqk&t=2s
https://www.youtube.com/watch?v=AeMqaNertvU
Free digital book for children
Check out https://bit.ly/3bdei8U for details of a free digital book for children about Covid-19, illustrated by Axel Scheffler, covering questions like 'What is coronavirus ?', 'Is there a cure?' and 'What can I do to help?'
Advice from SCIE for Safeguarding Children Practitioners
Social Care Institute for Excellence (SCIE) has produced guidance and useful reading about safeguarding children and families during the current COVID-19 crisis which includes additional risk factors, abuse and harm, strengths based practice and working with reduced services.
Briefing Note for Volunteers during Coronavirus
The RSCP, along with the Redbridge Safeguarding Adult Board, have produced a short briefing note on safeguarding for use with volunteers.  The information provides a general introduction to safeguarding and the role of volunteers in reporting concerns, plus the contact information for both Children and Adult Social Care in the LB Redbridge.  It does not replace individual agency safeguarding policies or procedures, nor face-to-face safeguarding training.
Reach Out – Domestic Abuse Service from LB Redbridge
The Borough has  a new support service for residents suffering domestic abuse.  The service can be contacted via telephone on 0800 145 6410, 09:00 to 17:00, or via e-mail on reachout@Redbridge.gov.uk.  Further information is available via the link below:
Press Release from LB Redbridge
The Local Authority have issued a press release urging the public to continue to report child protection concerns during the Coronavirus outbreak and highlighting the role in safeguarding that all can play particularly during lockdown.
Information on changes in arrangements for CP Conferences and Looked After Reviews
Please find below two letters from the Borough's Safeguarding and Quality Assurance setting out new arrangements for conducting CP Conferences and Looked After Children Reviews going forward.  These letters have been sent out to all partner agencies.
There is also a letter specifically for parents and carers of children who are due to have an Initial Child Protection Conference (ICPC) or a review Conference.
Joining instructions for virtual meetings will be issued with the usual invitation to a Conference or Review, but can also be downloaded via the links below:
Advice for parents during coronavirus
During the coronavirus outbreak, it may be difficult for parents and carers to know what to do in terms of seeking medical support for children who become unwell or are injured.  The poster below, produced by the Royal College of Paediatrics and Child Heath (RCPCH), provides guidance on where and when to seek support: