News:      13 May 2021
For guidance and support relating to COVID-19, please view the Council's Coronavirus Information Hub.
Survey on Child Sexual Abuse for Voluntary and Community Sector Organisations
If you work or volunteer for a voluntary sector organisation in Redbridge that provides services or activities for children, young people and their families, we would be really pleased to receive feedback from you to inform one of our RSCP priorities for the year – child sexual abuse in the family.  There is an on-line questionnaire available which will take around 10 minutes to complete which will share the level awareness and confidence in your organisation in indentifing children that may be at risk, how to respond, what training you have access to and the reflection of this topic in safeguarding policies.  The responses will be collated anonymously for incorporation into wider report presented to the Partnership in July which will also include findings from a self-assessment on the same topic completed by statutory agencies.  If you have any questions, please contact RedbridgeSCP@redbridge.gov.uk  or call 020 8708 5282.
New Youth Hub to provide employment support and opportunities for young people in Redbridge
To support young people who may have been adversely affected by the COVID-19 pandemic, Redbridge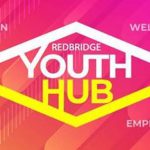 Council has launched the Redbridge Youth Hub, a one-stop virtual shop for young people aged 16 – 24 to find information and advice on employment opportunities, education, apprenticeships, training, managing money and well-being services in and around the Borough.  Find out more via the link below:
Access and awareness of where young people can find helpful information is a key aspect of the UNICEF Child Friendly Cities and Communities Programme. of which Redbridge is a part, working towards becoming an accredited child friendly borough.  The Hub also includes Youth Service information and activities (see link below):
Government launches review into sexual abuse in schools
A new dedicated NSPCC helpline (0800 136 663) is now available to support potential victims of sexual harassment and abuse in education settings and provide children and adults who are victims of sexual abuse in schools with the appropriate support and advice. This includes how to contact the police and report crimes if they wish. The helpline will also provide support to parents and professionals too.  The government has  asked Ofsted to undertake an immediate review of safeguarding policies in state and independent schools. Ofsted will work with representatives from social care, police, victim support groups, school and college leaders and the Independent Schools Council. The review will conclude by end of May 2021 and will seek to establish where safeguarding arrangements and processes are good and have worked well and where improvements are needed.  Anyone with concerns should visit to find out how to get help: https://stopabusetogether.campaign.gov.uk/
Guidance for Schools on Children Safeguarding Referrals
Ahead of schools re-opening fully in March, the RSCP, in consultation with LBR Children's Social Care, a short briefing note to support Designated Safeguarding Leads in schools with making referrals.
Telephoning the LBR MASH
Please be advised that there have been some changes to the telephone system receiving calls into the Redbridge MASH.  The phone number remains the same (020 8708 3885).  Upon calling you will receive the following message:
You have reached the Multi Agency Safeguarding Hub, commonly referred as MASH.  Please select from the following 4 options.
If you have concerns about a child and want to make a referral to the team or want to discuss an issue related to children social care, please press 1.
If the child, you are calling about has a social worker, please press 2.
If you are a professional wanting an update on a MASH case or advice, please press 3.
If you require any other service, please call our call centre on 02085545000.
Private Fostering
Do you know of a child who is being cared for, for a period of more than 28 days, by someone who is not a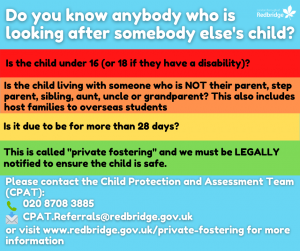 close relative?  If so, this could be Private Fostering.  Private Fostering describes an arrangement when someone who is not a close relative cares for another person's child under the age of 16 (18 if the child has a disability) for 28 days or more.  A close relative is considered to be an aunt, grandparent, step-parent or siblings.  Other family members such as cousins or great aunts are not classed as close relatives for the purposes of Private Fostering.  Families hosting overseas students being educated in the UK are included in the definition of Private Fostering.  Notifications for Private Fostering arrangements in Redbridge should be made to the Child Protection and Assessment Team (CPAT) via 020 8708 3885 or via e-mail at CPAT.Referrals@redbridge.gov.uk .  For more details, please view the Private Fostering information on the Council's website or on the dedicated page for parents and carers on this website.
Reach Out
This is a reminder of the Reach Out Service, launched by the Local Authority with partner agencies to provide support to residents experiencing domestic violence. More information is available on the Council's website.  The direct contact information for Reach Out is for residents. Professionals requiring updates on existing cases should contact the MASH via 020 8708 3885 or CPAT.Referrals@redbridge.gov.uk to ensure that the Reach Out phone lines are left free for victims.
Information on changes in arrangements for CP Conferences and Looked After Reviews
Please find below two letters from the Borough's Safeguarding and Quality Assurance setting out new arrangements for conducting CP Conferences and Looked After Children Reviews going forward.  These letters have been sent out to all partner agencies.
There is also a letter specifically for parents and carers of children who are due to have an Initial Child Protection Conference (ICPC) or a review Conference.
Joining instructions for virtual meetings will be issued with the usual invitation to a Conference or Review, but can also be downloaded via the links below: