News:      19 May 2022
Ofsted Five Year Strategy
Ofsted has released a five-year strategy detailing its goals to raise standards in education and children's social care. The strategy sets out the introduction of a more risk-based and proportionate approach to regulation and inspection to help keep children safer. The report highlights a number of areas of concern, including: online harm, the prevalence of peer-on-peer sexual harassment and unregistered settings where children may be cared for in unsafe environments. Ofsted aim to inform safeguarding practices through the measures outlined in the strategy, and identify systemic safeguarding issues.   A copy of the new strategy can be downloaded via the link below:
Local Drug Alert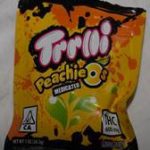 A warning has been issued locally by both the police and Redbridge Public Health regarding the potential dangers of cannabis infused sweets following the death of a young woman in east London last week.  The exact cause of death is still under investigation but the product, featuring 'Trrlli Peachie O's' branding (see illustration left) has been linked with a number of other people becoming unwell and it could be a serious risk to health.  The product is a class B drug and illegal.  The ingredients named on the packaging may accurately reflect the contents.  Please be vigilant and report any similar instances.
Keep siblings together – foster for Redbridge
Leaving your family to live with a foster parent is a daunting enough experience for any child or young
person, but when it also means that you have to be separated from your brothers and sisters, then the experience is all the more upsetting and unsettling. This is why we are always keen to actively recruit foster parents who can help us to keep brothers and sisters together in the same foster family.
If you have the space in your heart and home to foster siblings, please email fostering@redbridge.gov.uk, call us on 020 8708 6068 or join us on our next virtual information session.  Visit www.redbridge.gov.uk/fostering to book a place.
REWT Newsletter – March 2022
The latest REWT (Redbridge Educational Wellbeing Team) Newsletter is available to download via the link below:
Updates to the London Child Protection (CP) Procedures – 31 March 2022
A number of changes have been made to the London Child Protection Procedures and Practice Guidance, with the new version published on 31 March.  Firstly, it has been renamed to the London Safeguarding Children Procedures.  The menu structure has been amended to:
Core Procedures – the order remains the same but two additional chapters have been added (see below);
Safeguarding Partnership Arrangements includes agency responsibilities and partnership arrangements – this is themed with some new content (see below);
Practice Guidance – is now in alphabetical order with shorter titles in the index which hopefully makes it easier to locate what you are looking for.
Core Procedures – updates
Information Sharing Guidance – this is an entirely new chapter in the procedures. It sets out the legal bases for sharing information to safeguard and promote the welfare of children.
 Referral and Assessment –  the Pre-Birth Section this chapter has been entirely re-written in the light of the publication of the "Myth of Invisible Men" by the Child Safeguarding Practice Review Panel; it emphasises the importance of early identification and assessment and the need to ensure that information is obtained about fathers at every stage of anti-natal care.
Allegations Against Staff or Volunteers

A new paragraph 2.8 encourages agencies to ensure that they have a code of conduct in place which clearly includes references to behaviours/relationships between people in a position of trust and those for whom they are responsible that are over the age of 18;
Paragraphs 2.12 and 2.13 underlines the need for "low level" concerns to be discussed with the LADO and for them to be recorded.

Risk Management of Known Offenders – this Chapter has been moved into the Core Procedures.
Safeguarding Partnership Arrangements – new menu heading and updates
Safe Recruitment
Changes to paragraphs 1.11 and 1.40 concerning the statutory disclosure guidance for DBVS checks
Paragraphs 1.50  and  1.51 have been updated to include a recommendation that agencies retain copies of DBS certificates, ensure that their staff are registered with the DBS update service and provides the UK GDPR bases for the retention of DBS certificates.
A new paragraph, 2.6 includes reference to the information that fostering and adoption services are required to keep about their staff in addition to that which would be kept for other social workers.
Learning and Improvement​ Framework
This is an entirely new chapter in the procedures and combines / replaces "Principles for Learning and Development" and the "Safeguarding Training Competency Framework".
Quality Assurance
Section 5.3 (unallocated cases) has been deleted
Practice Guidance
As set out above, the index has been revised to have shorter chapter titles in alphabetical order.
The chapter dealing with "Children Living Away from Home" is now under revision.
Other chapters will be revised in due course including that relating to missing children.
NHS London Violence Reduction Programme – Social Prescribing Pathway
The NHS London Violence Reduction Programme is launching a new specialist Social Prescribing Pathway for children and young people at risk of violence in London. Designed as a preventative model, the pathway will specifically support the needs of young people aged 11-25 years old who may be at risk of violence, promoting change on an individual and community level.  The traditional social prescribing approach enables GPs, nurses and other primary care professionals to refer people to various non-clinical services to support their health and wellbeing. Our specialist pathway focuses on young people and utilises the strengths of individuals who may have lived experience to connect with at risk young people and empower them to make better life choices. We believe that this preventative approach is a key enabler in improving the lives of young people and the communities in which they live.  To help raise awareness of the new pathway and nurture support across the social prescribing landscape, we'd greatly appreciate your support in sharing information across your organisation and stakeholder networks. In the link below, you'll find a communications toolkit that has been designed to make it quick and easy for you to promote the pathway through your website, newsletters and social media channels, accompanied by a range of social media assets and a copy of the Social Prescribing Pathway document.
https://drive.google.com/drive/folders/1Ch–PghAvDsckMFK9fMSq5miNj56tdO9?usp=sharing
You can also find out more about the wider work of the NHS London Violence Reduction Programme on the NHS England website.
If you have any questions, please don't hesitate to contact england.violencereduction@nhs.net with social prescribing as a header.  Thank you in advance for your support in helping young people thrive in our city.
Appointment of Independent Chair/Scrutineer for the Redbridge Safeguarding Children Partnership (RSCP)
The RSCP are delighted to announce the appointment of Eileen Mills as our new Independent Chair/Scrutineer.   Eileen, who commences her role ahead of the next Partnership meeting, will also be occupying the role of Independent Chair for the Redbridge Safeguarding Adults Board (RSAB).  Eileen is a health professional, as well as a very experienced safeguarding manager and we look forward to her bringing her leadership skills and professional experience to Redbridge.
Private Fostering

– do you know what this is and what your responsibilities are?
Private fostering is when a child under 16 (or under 18, if disabled) lives with someone who is not a close relative for more than 28 days.  Close relatives include the child's parents, step-parents, grandparents, brothers, sisters, uncles and aunts, whether by blood or marriage. If you are a cousin, great aunt, great uncle, a friend of the family or if you are a host family to overseas students then you are NOT a close relative to the child.  A private foster carer may be a friend of the family, the parent of a friend of the child or someone unknown to the child's family.  Private fostering may take place, for example, when:
Private fostering may take place, for example, when:
children are sent to the UK from abroad for schooling or healthcare
young children are taken in by a friend's family, following separation, divorce or arguments at home
a teenager lives with the family of a boyfriend or girlfriend
A Private Fostering arrangement should be reported to Redbridge Children's Services via the MASH (CPAT.Referrals@redbridge.gov.uk/Tel:  020 8708 3885)  who will allocate this to CPAT for a C&F Assessment to be completed. Private foster carers are legally required to notify their local authority. If they intend to foster privately for more than 28 days, they must notify the Local Authority a minimum of six weeks before the child is due to join them, or immediately if a child arrives suddenly.  For more information view:  https://www.redbridge.gov.uk/private-fostering.