UNICEF Child Friendly Borough
Child Friendly City and Communities is a global programme that brings together UNICEF and local government to put children's rights at the heart of communities and public services. The programme supports local authorities and partners in developing a child rights-based approach, when designing, delivering, monitoring and evaluating local services, policies and strategies for children.
The programme has 3 phases: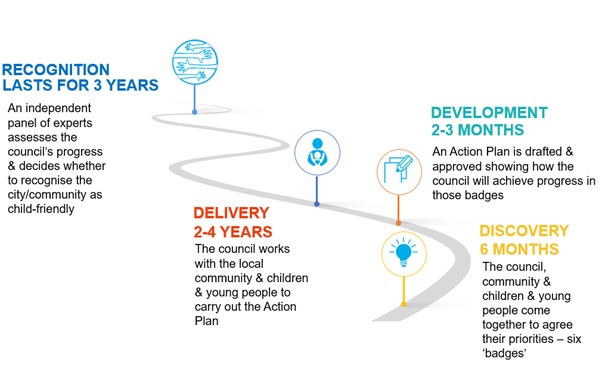 By the end of the discovery phase, 3 foundational badges alongside 3 (out of 10) are chosen by Redbridge Council in partnership with its community and children/young people. This is shown below: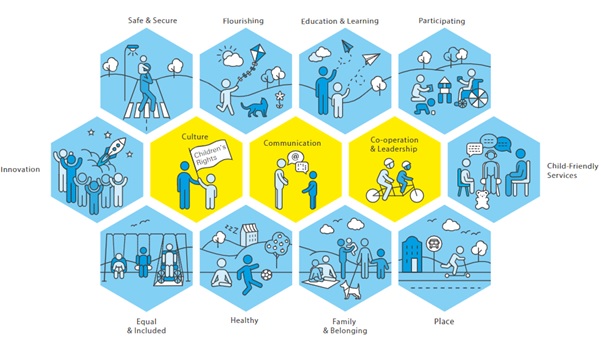 Throughout the whole programme, a child rights based approach is taken. For more information on this, have a look at our United Nations Convention on the Rights of the Child page.
It can be challenging trying to ascertain the views of children and young people. However, throughout this programme, there are 4 principles on which can be adopted to try and help gauge the voices of our children and young people. This may also help you in your profession.
Space – They must be given a safe and inclusive space in which to form and express their views. Efforts must be made to reach out to all children, including the most marginalised.
Voice – Children must be supported and helped to express their views. They need the opportunity, time and information to help them form their own views. They are entitled to express views not just on the obvious issues of child care, child protection, school, play and health, but also, for example, on public planning, transport, social protection, justice, environmental health, housing and social inclusion.
Audience. When children express views, they must be listened to respectfully. They need to be confident that the relevant adults are prepared to take them seriously.
Influence. Children's views should be acted on. This does not mean that everything they propose must happen, but it must be given proper consideration.
For more information and to keep up to date with this exciting programme, have a look at the below: